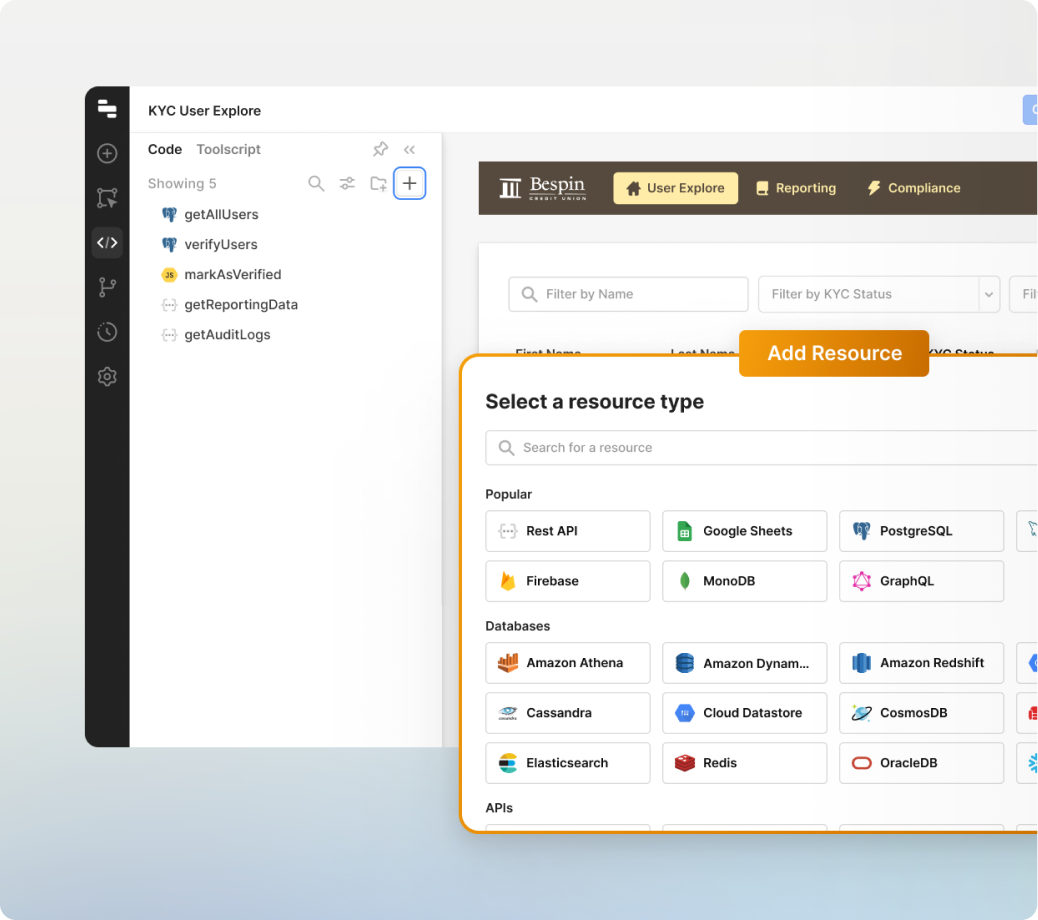 Retool for operations leaders
Build ops tooling that maps to your stakeholders' needs
Whether looking to get more of the right data into your teams hands or looking to scale operations across your organization, Retool provides the development resources, data integrations, and application governance to empower your line-of-business teams.
Trusted by operations leaders at the world's leading brands.
Make more informed decisions with data visibility and control
Make decisions informed by audit trails and visibility into usage analytics, then take action immediately in-app, and even automate actions with workflows.
Consolidate processes to a single surface with greater visibility and controls and reduce unnecessary spend.
Securely govern team data access needs
Operate confidently at scale with granular RBAC and data-level permissions, so that all apps are secure by default.
Eliminate 'shadow IT' applications with heightened governance over deployment and environments.
Build custom business apps without reliance on engineers
Empower your business teams to quickly spin up custom tooling via visual interface, within the bounds of defined permissions groups.
With critical services like authentication and authorization built in, you can avoid the backlog queue and save valuable resources.
Deliver tooling that actually maps to your needs
Collaborate on prototypes with line-of-business teams to build exactly the tool you need, saving time down the road.
Sunset legacy and outdated systems, replacing them with custom applications that solve for your full use case.
Operations leaders look to Retool for
Faster data analysis
Business ops teams often spend hours analyzing data across multiple sources. With Retool, businesses are building apps that consolidate data, visualize output, and track changes in real time—reducing errors and moving faster.
Consolidated data solutions
Reduce data silos and introduce a single source of truth across all of your 3rd party SaaS data sources. With data governance and controls built-in, you can empower your team to access the data they need to operate efficiently while maintaining control.
Operational efficiency
Large businesses often meet capacity and operational inefficiencies as they scale, especially as they scale tools supporting customer-facing teams (support, customer success, sales, etc). With Retool, you can introduce custom operations software to solve for exactly the workflow or issue at hand, built on top of or alongside your existing systems.
Scaled operations across hundreds of locations/teams
Operations leaders turn to Retool to create operational tooling that empowers them to scale their products and services across locales and teams. We've seen businesses operationalize apps to manage inventory, scale localized support, and automate expansion playbooks.
"In every organization there's this gap in the development curve, where internal tools get lost in the thrash. People have a hard time self-assessing just how much time they're wasting building and maintaining. It's been really obvious to us that there's a lot of hours being saved now. We've also started to distribute Retool internally to less technical people. This allows us to build more tools on the fly."
Mark Wopata
Chief Data Officer at EquipmentShare
Platform and people you can trust
With a spectrum of support, our highly trained and experienced team of consultants can help you create the ideal application strategy for your organization.
The only developer-first platform on the 2023 LCAP Magic Quadrant
Named as a 2023 top 100 cloud company
Honored in the InfraRed 100 as a transformative cloud company.
Ship custom business tooling, faster
Retool's
enterprise platform
was built for scale. For custom pricing that fits your business, talk to our team to learn more.