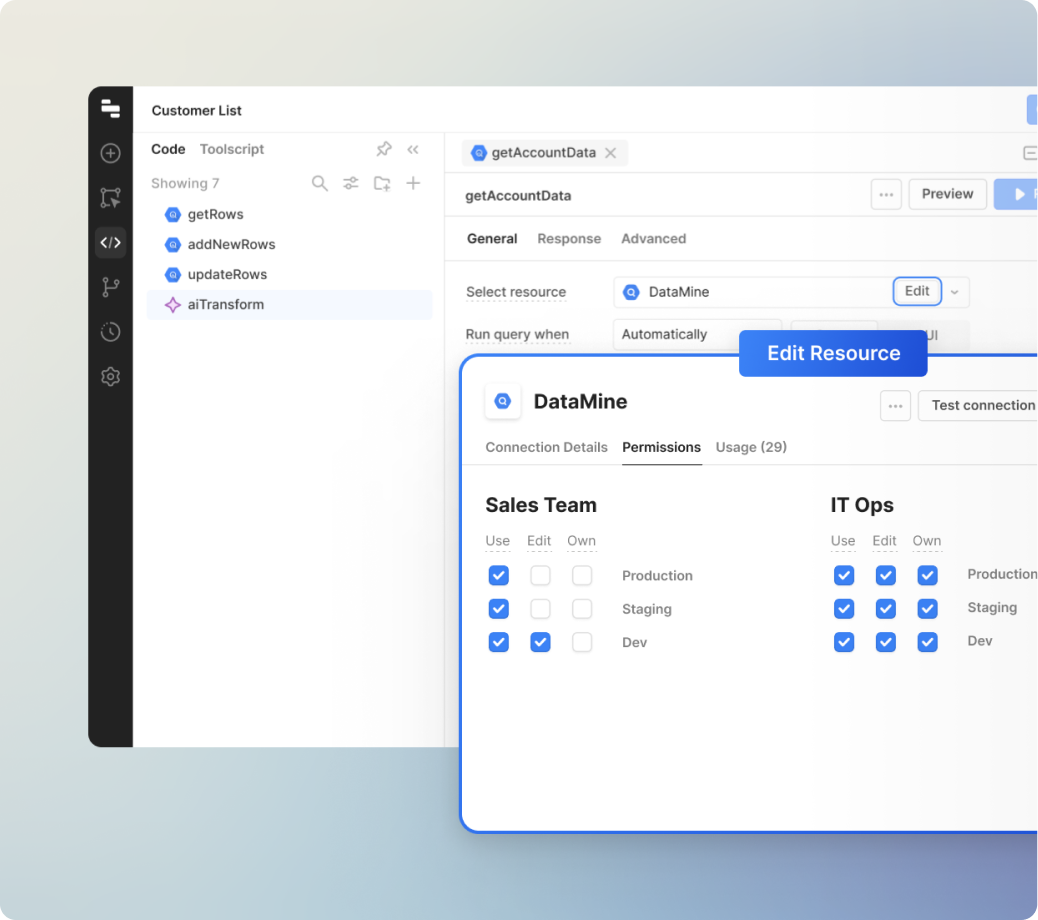 Modernize your org's development infrastructure
Whether leading your team through digital transformation or looking to standardize and accelerate your centralized IT development, Retool arms you with the tools and governance to securely manage data access while allowing your teams to build freely.
Trusted by IT leaders at the world's leading brands.
Easily scale business operations across your org
Centralize, automate, and scale governance across all apps and workflows to maintain consistency across hundreds of teams and apps.
Allow teams to quickly spin up independent workspaces to manage their own apps, permissions, repos, and more, while sharing core infrastructure with other teams.
Reduce your spend on 3rd party Saas tools
Sunset legacy and outdated systems, replacing them with custom IT applications that will easily extend to evolving stakeholder needs.
Reduce tool sprawl and consolidate hundreds of one-off processes, tools, and apps to a single, scalable platform.
Securely govern team data access
Operate confidently at scale with granular RBAC and data-level permissions, so that all apps are secure by default.
Eliminate 'shadow IT' applications with heightened governance over deployment and environments.
Make informed decisions with visibility and analytics
Look to rich audit trails and visibility into usage to inform org investments.
Realize efficiencies and cost savings with usage analytics and data structures.
Common reasons IT leaders look to Retool
Digital transformation
Whether you're looking to build customizations on top of existing data warehouses or ERPs, to replace your legacy systems, or incorporate AI into your business, Retool helps you introduce modern applications and workflows—and say "goodbye" to spreadsheets.
Consolidated data solutions
Reduce data silos and introduce a single source of truth across all of your 3rd party SaaS data sources. With data governance and controls built-in, you can empower your team to access the data they need to operate efficiently while maintaining control.
Data visualization and access
With Retool, you can quickly build applications and user interfaces on top of your APIs, empowering your non-technical line-of-business teams to self-help via visual tooling.
Supplement engineering resources
Under-resourced business teams often turn to spreadsheets while awaiting IT and engineering solutions—that may never be prioritized. Build the tools that may otherwise never be built, reducing org dependency on manual systems that create human error.
"In less than 12 weeks, we built an enterprise-class demand planning system that addressed years of feature requests that would have been especially challenging to implement in our legacy system. The quick, iterative process Retool supported was essential to our success."
Mike DeBruiker
Lead Technical Product Manager at Amazon Zappos
Platform and people you can trust
With a spectrum of support, our highly trained and experienced team of consultants can help you create the ideal application strategy for your organization.
The only developer-first platform on the 2023 LCAP Magic Quadrant
Named as a 2023 top 100 cloud company
Honored in the InfraRed 100 as a transformative cloud company.
Centralize and ship business software, faster
Retool's
enterprise platform
was built for scale. For custom pricing that fits your business, talk to our team to learn more.